Engineering Solutions: Custom Motion Control System for Advanced Time Lapse Camera
Custom Motion Control System for a Panavision 65-mm High Speed Camera
Award-winning documentary filmmakers Mark Magidson and Director Ron Fricke needed a custom motion control system for an advanced high speed camera.  Highly specialized engineering solutions were needed to create the breathtaking and stunning visuals for their documentary film, Samsara.
Specialized Engineering Solutions:
They came to Rob Greiner to develop a custom Motion Control System, involving both software/hardware, for their highly advanced time lapse Panavision 65-mm High Speed Camera.   Over several months, using Fricke's exacting specifications, Greiner developed and tested a custom control system that integrated hardware and software applications for seamless recording.
Rob's engineering solutions met the demands of their unique movie-making motion control system application.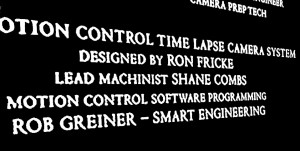 During filming, his motion control system allowed the filmmakers to create the shots, including never-before-seen time lapse shots which panned across a scene.
The 65-mm camera performed its precise time-lapse mode under exceptionally difficult conditions in 25 countries scattered across five continents.
Looking for engineering solutions for your highly specialized project?  
Contact Rob now